Complete Orthodontics – Clinton, MA
Making Your Smile Straighter, Happier, and Healthier
You're doing far more for your smile than simply making it straighter when you complete orthodontic treatment. In fact, you're making it easier for you to brush and floss, improving your biting strength, and boosting your self-confidence! When you meet with our dedicated orthodontists, you'll get to learn about the many benefits that orthodontic treatment can offer. Whether you choose traditional braces, Invisalign's clear aligners, advanced accelerated treatments or another service, you can get it done at Simply Pediatric Dentistry & Orthodontics. Give us a call today to schedule a consultation to discuss services available for complete orthodontics in Clinton, MA!
Why Choose Simply Pediatric Dentistry & Orthodontics for Complete Orthodontics?
Receive a True Lifetime Guarantee and Lifetime Retainers for a Small Fee
We Accept Patients of All Ages
Make Use of Dental Insurance and MassHealth
Phase 1 Pediatric Orthodontics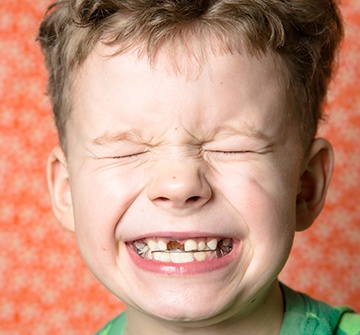 Once your child reaches the age of 7, our orthodontists recommend that they come in for their first consultation. This is the age where developmental concerns tend to be the easiest to spot. From there, we may recommend Phase 1 treatment. This treatment is usually provided before traditional braces are considered and typically involves the use of removable oral appliances to treat orthodontic concerns. It may also include at-home intervention for poor habits that negatively affect the position of teeth (such as thumb-sucking). With Phase 1 treatment, you're giving your child a head start for a healthy smile going forward.
Learn More About Phase 1 Pediatric Orthodontics
Traditional Orthodontics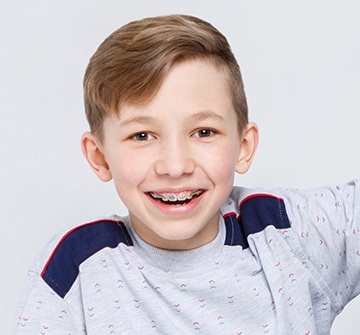 Proven to be an incredibly effective and reliable orthodontic treatment, braces have been around not only for many years, but longer than any other orthodontic procedure out there. Through this system, children and adults alike wear a series of silver brackets which are placed on individual teeth. Then, an archwire is threaded through the brackets and a series of elastic bands are wrapped around them. This keeps the archwire in place, allowing it to exert targeted pressure on teeth and shift them into their straighter positions. No matter how severe your orthodontic issue might be, you can expect it to be resolved with braces over the span of two to three years.
Clear & Ceramic Braces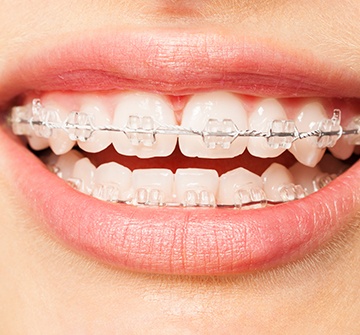 Clear and ceramic braces are similar in construction to traditional braces, but they make use of materials that are designed to blend in with your smile. Made from transparent and tooth-colored brackets and wires, this treatment option works to maintain the appearance of your smile as you undergo treatment. Older teens who are just beginning college or adults who want to keep up with their professional image will find them to be a fantastic alternative. Of course, they can be quite fragile, so always handle them with care.
Damon Braces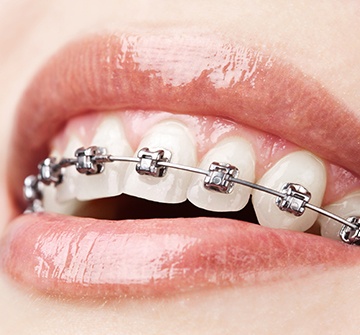 Damon braces are fitted to teeth as well, however, they rely on a sliding mechanism instead of using standard brackets. This mechanism tightens teeth and shifts them, allowing the wires attached to the brackets to move naturally with teeth along the way. If you want a treatment that is more comfortable overall, quicker, more subtle, and entails less friction and pressure, you'll appreciate the benefits that Damon braces offer.
Invisalign Clear Aligners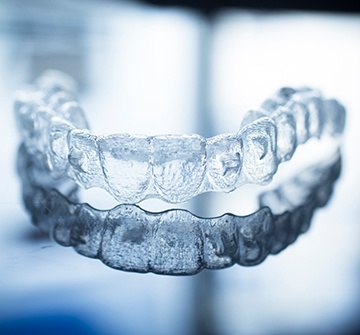 If you simply can't settle for traditional braces due to the cosmetic sacrifices you'd need to make, our orthodontic office has you covered. Invisalign helps you remove the association with teenagers and children that traditional orthodontic treatments typically carry. This can be especially important if you work in a professional orthodontic office environment. Instead, you can wear a series of clear aligners that are customized to your teeth and completely transparent! Not only will people barely notice they are there, but they are removable for daily brushing and flossing. Furthermore, you won't need to change your diet, something that can't be said for traditional braces.
Invisalign Teen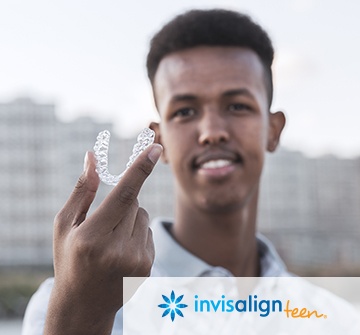 Is your teenager afraid of having their mouth "full of metal" as they complete their high school or college years? Invisalign's clear aligners are specifically designed to realign crooked and misalign teeth. Even better, Invisalign has created a treatment that is specifically catered to teenagers undergoing orthodontic treatment!
Invisalign Teen is almost identical to traditional Invisalign treatment, however, each pair of aligners comes equipped with built-in blue-dot technology. These dots fade away as they are worn and reappear when they are not. If they are not worn for long enough, it will be substantially easier for you and our orthodontic office to tell. Think of them as a friendly reminder for them to make small changes to their regimen and when they should switch to their next pair. If an aligner cracks, snaps in half, or becomes damaged in any way, we have limited back-ups pairs available as well.
Retainers & Oral Appliances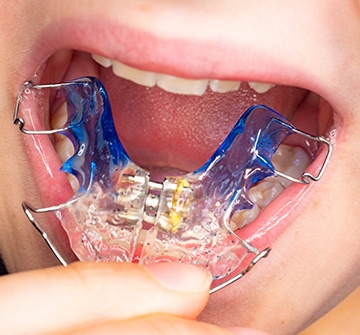 We often recommend braces for those with orthodontic concerns, but our specialists can provide many unique types of oral appliances that help patients the healthiest and best-looking smile possible. For example, if your child happens to loose a baby tooth too early, we can provide them with a space maintainer so their permanent teeth have sufficient room to erupt. Does your child not have a wide enough dental arch? We can recommend a palatal expander, which ensures the permanent teeth have enough room to erupt that way as well.
We talk quite a bit about retainers at our orthodontic office, and that's because teeth have the ability to shift back to their original positions following treatment without them. Thankfully, wearing the aligners as directed by our team allows you to maintain your smile improvements that you took the time to complete. At Simply Pediatric Dentistry & Orthodontics, we offer patients lifetime retainers for a small fee as part of our lifetime guarantee, ensuring you can feel confident about your next treatment!