Sedation Dentistry for Kids – Clinton, MA
Give Your Child a Comfortable Dental Experience
We get that the dental office is probably not your child's favorite place to visit. However, children who suffer from anxiety, nervousness, or a phobia of dentistry are prone to more dental problems as they age. Our trained dentists and team members are exceptional at helping young patients relax during your child's routine appointments, no matter how young they may be. With that said, Simply Pediatric Dentistry & Orthodontics recognizes that sometimes patients need a little extra push. We provide sedation techniques that are not only safe, but designed to make their visit as smooth and comfortable as possible. Give us a call today to learn more about sedation dentistry in Clinton, MA!
Why Choose Simply Pediatric Dentistry & Orthodontics for Sedation Dentistry for Kids?
Experienced Pediatric Dentists By Your Side
Welcoming Patients of All Ages
Calming and Comfortable Dental Office Environment
Nitrous Oxide Dental Sedation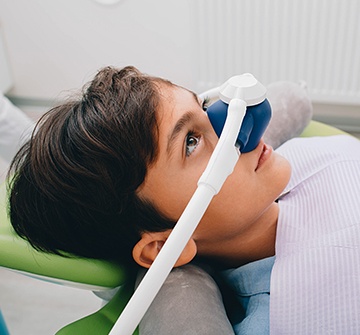 Chances are you already know what nitrous oxide is, especially if you've heard it referred to as "laughing gas." This sedative is inhaled through a nasal mask that is worn by the patient after they are already in the dental chair. It's a mild sedative and is appropriate for children of almost any age. After a few minutes of slowly breathing in the gas, your child should feel incredibly relaxed, even though they can still speak with our team members about their comfort. If they need to answer questions or tell us how they're feeling, they can easily do so. Even better, nitrous oxide quickly wears off after the mask is removed, making it easy for them to continue their day.
Oral Conscious Sedation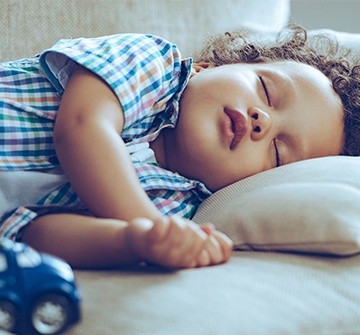 For children who have more moderate levels of dental fear or anxiety, oral conscious sedation may be a better option. Instead of being administered as a gas, a sedative is taken in pill form, usually in advance of the appointment so that it has time to begin taking effect. You can expect your child to achieve a deep and comfortable level of relaxation that streamlines and simplifies dental care. While the sedative does not typically put your child to sleep, it will make the memory of their appointment and treatment fuzzier, which further alleviates anxiety.
What Is Oral Conscious Sedation?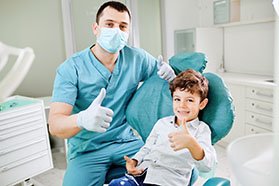 Oral conscious sedation relies on prescribed medication, usually in pill or sometimes liquid form, to help patients who suffer from dental-related anxiety or other issues receive dental care comfortably. It's fully capable of easing the tensest of nerves and drastically reducing the fear that children experience concerning treatment. And better yet, it benefits all parties involved in the sense that the dental staff generally has an easier time performing treatment on sedated patients! It's also worth noting that many children tend to prefer oral conscious sedation compared to nitrous oxide since it doesn't involve the use of a nasal mask.
How Does Oral Conscious Sedation Work?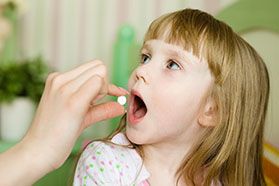 It's important to distinguish that oral conscious sedation does not cause unconsciousness; rather, it induces a deep and safe state of relaxation. Your child will probably feel sleepy after taking the pill, and they might doze off a little bit, but they'll still be able to respond and can easily be stirred. The sedative is administered before the appointment so that by the time your child is seated in the chair, they'll feel relaxed and prepared for their visit—and whether they're there for a simple checkup, filling or any other sort of treatment, things are set up to go smoothly! The dental staff will monitor your child throughout their treatment and after a few hours, they should feel totally back to normal.
Is Your Child a Good Candidate for Oral Conscious Sedation?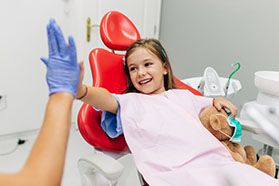 The only way to accurately assess if your little one is a good candidate for oral conscious sedation is to have them meet with our team. During their consultation, we'll review their medical history and ensure that they can safely be administered the sedation. If your child exhibits any of the following, assuming they're fit for treatment, they'll benefit greatly from oral conscious sedation:
Mild to moderate dental fear or anxiety
Sensitive gag reflex
Inability to sit still or keep their mouth open for extended periods
Previous dental trauma or bad experiences
Multiple or complex procedures are necessary
Difficulties getting numb with anesthesia