Traditional Braces – Clinton, MA
The Tried-and-True Teeth-Straightening Treatment
Over the years, several new orthodontic treatments (like Invisalign) have come on the market. While effective and discreet, traditional braces continue to be one of the most popular teeth-straightening solutions. Not only are they capable of addressing a wide range of orthodontic issues, but they also have helped millions and millions of patients transform their smiles and bites. If you are interested in learning more about traditional braces in Clinton, read on or get in touch with our friendly team!
Why Choose Simply Pediatric Dentistry & Orthodontics For Traditional Braces?
Friendly Orthodontists with 25+ Years of Experience
We Welcome Patients of All Ages
Affordable Treatment Options
How Do Traditional Braces Work?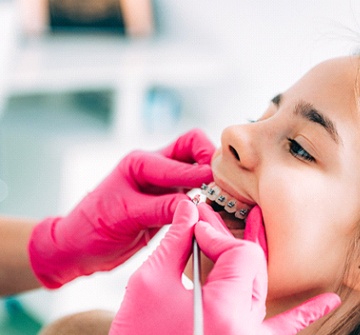 Traditional braces are one of the most effective and well-known orthodontic treatments, but how exactly do they work? Essentially, silver brackets are adhered to each tooth before the archwire is comfortably attached. To keep it in place, a series of elastic bands (the colorful part of the braces) are wrapped around them. This system ensures pressure is continually exerted onto the teeth, encouraging them to move closer and closer to their properly aligned positions. In as little as 12 months, you'll have the straight teeth and gorgeous smile you've been dreaming of.
What Orthodontic Issues Can Braces Fix?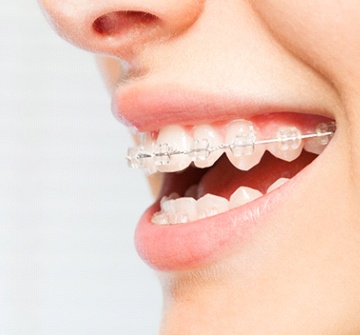 Thankfully, traditional braces can fix a wide range of common orthodontic issues, including:
Bite Misalignment
If your bite doesn't come together properly, then the look and function of your smile could be compromised. Fortunately, overbites, underbites, and crossbites are just a few of the many bite problems traditional braces can correct. In some cases, this involves the use of rubber bands, which help realign your jaw.
Crowded & Crooked Teeth
Overlapped teeth are one of the most common orthodontic problems. Not only can crooked teeth negatively impact your self-confidence, but they can also create unique crevices that can harbor bacteria and plaque, increasing your risk of developing cavities. The good news is the braces can gently guide your teeth into proper alignment, benefiting the appearance and health of your smile.
Gapped Teeth
Spaced-out teeth can also create spaces for plaque and other debris to hide in, adversely affecting your oral health. Fortunately, the brackets and wires of traditional braces can easily guide your teeth back together, providing you with a balanced, beautiful, and healthy smile.
Caring for Your Braces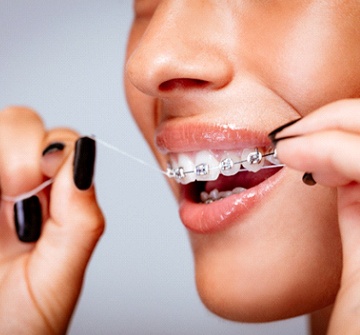 To stay on track with your treatment plan, it's of the utmost importance that you care for your braces properly. Fortunately, this task isn't too cumbersome. Here are a few best practices:
When brushing your teeth, brush each bracket as well (including the top and bottom)
Floss daily (using a floss threader can make this task significantly easier)
Get a dental checkup and cleaning every six months
Wear a mouthguard if you play sports or grind your teeth
Abide by the list of dietary restrictions (i.e., no caramel apples, popcorn, carrots)
Quit unhealthy dental habits, like chewing on ice
Understanding the Cost of Traditional Braces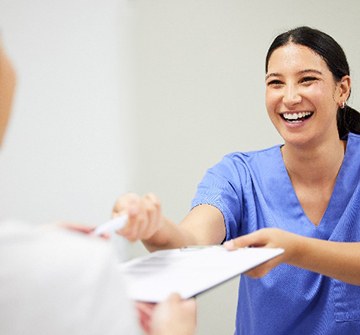 After finding out you're a candidate and learning more about the details of the treatment process, you may be wondering, "How much does traditional braces cost?" Don't worry – we will provide you with an estimate of the price at your initial consultation, answer any questions you have, and review all of the ways you can make your treatment more affordable. If, however, you want to learn more on the topic in the meantime, you can also read on!
Factors That Affect the Cost of Traditional Braces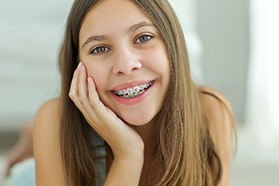 The reason we need to conduct an oral exam and take X-rays before providing you with a price is because no two smiles are the same. While one patient may be struggling with minor spacing issues, the next might have severe overcrowding and a bite problem, like an overbite. Therefore, we need to consider multiple factors that will impact your treatment, including how severe your misalignment is, if you need to straighten one arch of teeth or both, and if rubber bands or any other orthodontic accessories are needed as well.
Professional Braces vs. "DIY" Braces: Which Costs More?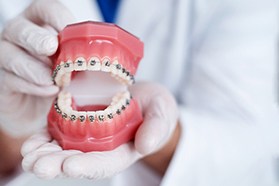 In short, even with a lower cost, "DIY" braces are not worth your money. That's because they aren't reliable or safe, resulting in patients experiencing worsened misalignment and, in some cases, even lost teeth. Although professional orthodontic treatments come with a higher upfront cost, they also are effective, customized to each patient, and consider what's best for the look, health, and function of your smile.
Does Dental Insurance Cover Braces?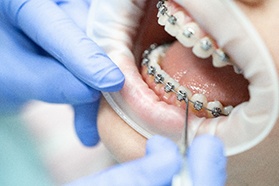 Again, there isn't a one-size-fits-all answer. However, many dental plans do have a once-in-a-lifetime orthodontic benefit that covers upwards of 50% of the cost of braces! That's why we always encourage our patients to get in touch with their provider before automatically assuming that they will be responsible for the cost entirely out-of-pocket.
Note: we're proud to be an insurance-friendly practice, and we have years of experience working with the nation's leading providers. So, if you have a question about your benefits and how they pertain to your orthodontic treatment, just ask!
Options for Making Braces Affordable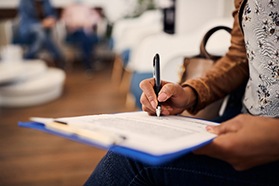 If you are currently uninsured, then you'll be happy to know that there is more than one way to make the cost of traditional braces more affordable. To begin, we welcome flexible financing with LendingPoint. With their payment plans, you can break down the price of your treatment into budget-friendly chunks. We also offer our patients in Clinton periodic special offers, helping you save significantly. If you'd like to learn more about flexible financing or our latest offers, give us a call – we're here to help!
Traditional Braces FAQs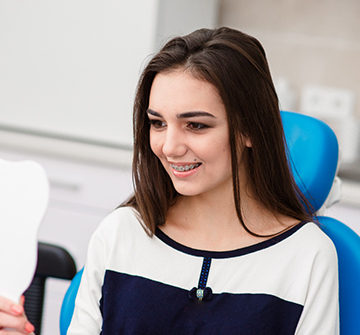 If you want to learn more about traditional orthodontics, life with braces, and the overall teeth straightening process, good news: you're in the right place! You can read on to learn the answers to FAQs from our patients in Clinton. Plus, as always, you can reach out to us directly if you can't find the answer you're looking for below or if you'd like to schedule an appointment.
Can I Get Traditional Braces on Just My Top or Bottom Teeth?
There are a few patients who are candidates for straightening just their top and bottom teeth. However, this isn't typically recommended. The main reason for this is that straightening one row of teeth without the other can negatively impact your bite. So, even if you think that you only need braces on your top or bottom teeth, we may not recommend single arch treatment.
Am I Too Old to Get Braces?
Many patients think that the ship has sailed on having straight teeth because they are now an adult. However, braces aren't just for children and teens. In fact, many older adults find greater success with orthodontic treatment since they are investing their own money, they have a solid oral hygiene routine established, and they understand the importance of following all of the guidelines (like not eating anything crunchy or sticky). In short, if you are interested in getting braces, don't let your age stop you from scheduling a consultation!
How Long Do Traditional Braces Take?
There are a few factors that impact the answer upfront, including how complex your case of misalignment is. It's also important to know that your compliance with the treatment guidelines will also play a role. For example, if you consistently break your braces because you aren't following the dietary restrictions, it's likely that you won't stay on-track with your original timeline. Similarly, if your treatment plan includes rubber bands, but you never wear them, you might add weeks or months onto the backend of your treatment.
Do Traditional Braces Hurt?
It's very common for patients to be concerned about the discomfort that comes with braces. However, orthodontic treatments today are more comfortable than ever! Plus, there are several ways you can prevent and alleviate soreness stemming from your brackets and wires, including using dental wax, sticking to soft foods, and taking an OTC pain reliever as directed.
Can I Chew Gum with Traditional Braces?
Since the sticky consistency can tug on your braces, causing them to come loose, it's not recommended. With that said, if you are going to chew gum during your orthodontic treatment, make sure to opt for a sugar-free kind. This will help prevent tooth decay from developing.
What Can You Not Eat with Traditional Braces?
The general rule-of-thumb is to avoid anything that's especially crunchy, sticky, or hard. A few examples include croutons, whole apples, raw nuts, popcorn, and peanut brittle. It's important to instead focus on adding lots of softer, nutrient-dense foods to your diet, like oatmeal, scrambled eggs, and vegetable soup.