Dentistry for Children – Clinton, MA
Personalized Dental Care for Your Growing Child
Our dentists at Simply Pediatric Dentistry & Orthodontics work closely with children and help them develop healthy habits because it's what we love to do! The more we can make their life easier through dentistry, the better. At this young age, they are likely beginning their school career, meeting new people, and learning what activities they love. This is why it's more important than ever to remain involved in their ongoing dental care, including brushing and flossing in between checkups. If your child has not been to our dental office in the past six months, give us a call and we'll get them scheduled today to receive dentistry for children in Clinton, MA!
Why Choose Simply Pediatric Dentistry & Orthodontics for Dentistry for Children?
All the Services You Need in One Location
Kind, Caring, and Professional Team
Modern Dental Technology for Better Comfort
Dental Checkups & Teeth Cleanings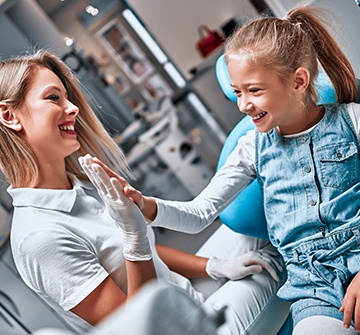 Dental problems can appear when you least expect them, regardless of how well your child practices at-home oral hygiene. This only proves why staying on top of routine checkups and cleanings matters, particularly every six months. Our pediatric dentists are by your child's side every step of the way and ready to explain how to protect their teeth, gums, jaw and other oral structures. That's why we perform a detailed examination of their smile and a comprehensive hygiene session to remove plaque and tartar, both of which can cause decay.
Dental Sealants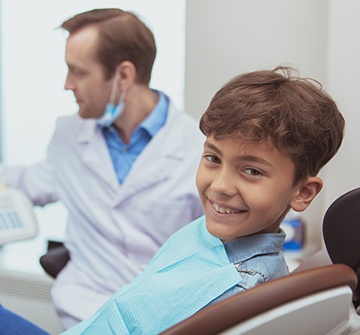 When it comes to cavities, many of them tend to appear on the chewing surfaces of the molars and premolars. In fact, it's estimated that four out of five cavities that develop in young patients appear in these exact teeth! With 80 percent of cavities in young patients occurring in this way, dental sealants are more important than ever! Since back teeth are generally more difficult to reach, especially if your child is still learning their oral hygiene, it helps to have a little added protection as they age. To reduce the risk of cavities, we can apply dental sealants in only a single appointment by painting a thin layer of composite directly onto teeth, then hardening it to create a protective shield. This will keep most food debris and decay-causing bacteria out.
Learn More About Dental Sealants
Fluoride Treatment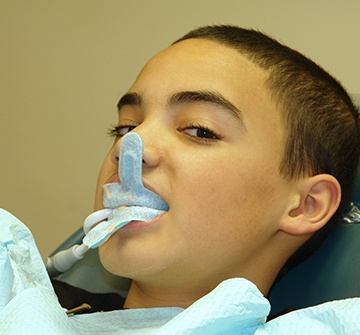 Chances are if you've had water from a public water source, you've been exposed to fluoride. The same is true when you use oral hygiene products and eat certain foods, both of which are great ways to get fluoride on a regular basis. This is particularly important for your child as fluoride can dramatically decrease the risk of them developing cavities at a young age. Our pediatric dentists provide regular fluoride applications to give your child's teeth added protection in between professional cleanings. The process is quick, painless, and a great way to keep their teeth strong as they improve their brushing and flossing!
Tooth-Colored Fillings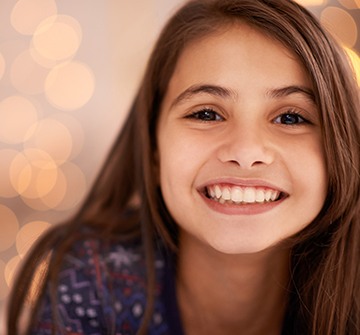 It may be surprising to hear, but it's estimated that about 90 percent of the population will have at least one or more cavities throughout their lives. It just goes to show that if a cavity does appear in your child's mouth, it's not too surprising. At Simply Pediatric Dentistry & Orthodontics, we offer solutions to repair teeth without having to resort to silver amalgam materials. Our tooth-colored fillings are natural-looking, more conservative, and remain strongly bonded to enamel! In fact, you can expect 10+ years of protection once placed; just make sure your child's oral hygiene is sufficient!
Safe Digital X-Rays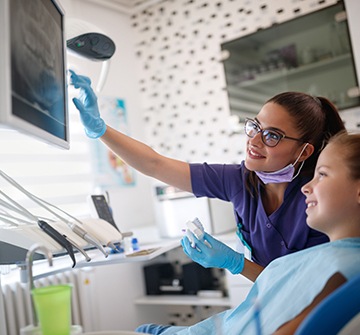 In order to maximize prevention, our dental office completes routine X-rays. Without them, there's no way to know everything we need to know about your child's oral health. Instead of only relying on the naked eye, our dental office in Clinton uses digital technology to capture as much information about the mouth as possible, including parts of teeth and the jaw underneath the gums. Thankfully, there's no need for a darkroom or the high levels of radiation that are typical with traditional X-rays, making the process much safer overall.
Root Canals / Pulp Therapy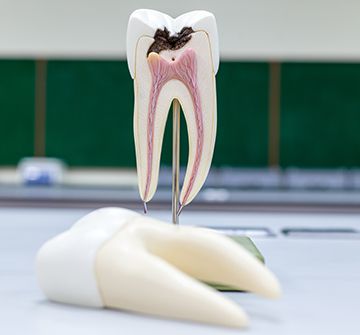 Is your child suffering from severe dental pain or tooth sensitivity? This could be a result of an untreated infection that has reached the vulnerable areas of the tooth, such as the pulp. At Simply Pediatric Dentistry & Orthodontics, we offer another option that does not include extraction. This includes root canal therapy and pulp therapy. These treatments help us save your child's tooth, which is even more important since they are still developing. As we perform pulp therapy, we do everything possible to maintain as much of the tooth's healthy structure. Whether it's your child's baby tooth or permanent tooth, we can perform this treatment.
Non-Nutritive Habits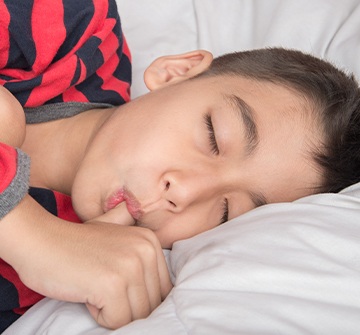 Your child may feel pressured by their peers to stop sucking their thumbs and fingers as they enter grade school. However, if this does not end up being the case, you'll need to intervene and let us know right away. If they continue this habit, they can easily damage their teeth and jaw development. During your visit, we'll provide you with all the info you need to help your child break their habit in a way that is kind, yet forward.
Emergency Kid's Dentistry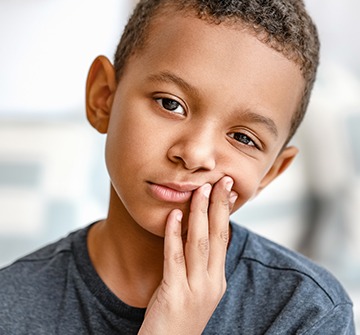 A dental emergency can occur when you least expect them, especially if your child is active in school or with their friends. Whether it's on the playground or in the house, we're ready in case they trip, fall, or damage their mouth in some way that requires emergency dental treatments. If anything serious occurs or your child has dental pain, please call us right away so we can offer first-aid assistance and get them scheduled for a dental appointment.
Tooth Extractions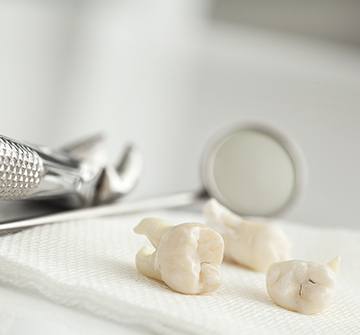 The last thing we want to do is extract a tooth from your child's mouth before it can come out on its own. We hope that's the case even more so when it comes to permanent teeth. However, there are times where we may recommend it to protect your child's oral health and future wellbeing. Cases where we could recommend extraction include the following:
A tooth has become severely damaged by decay and restorations can't save it
A tooth or series of teeth have been seriously injured by blunt force trauma
A baby tooth refuses to come out on its own and is preventing the eruption of permanent teeth
Additional room needs to be made for orthodontic treatment to be completed
Does your child need emergency care but is too nervous to get it done? Sedation dentistry can ensure they are comfortable during their treatment!
Athletic Mouthguards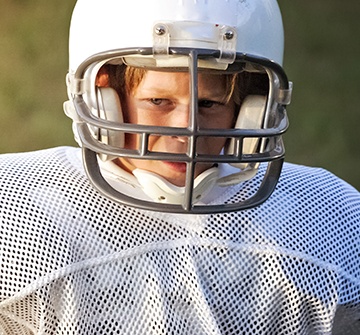 It can be exciting when your child is just starting to get active and participate in athletic sports. You'll need to keep protection for their smile in mind just like you would for their knees, elbows, and head as well if you want to reduce their risk for dental injuries. A great way to do that is to give them a custom-made mouthguard from our dental office! These are customized to protect their teeth fully, fit comfortably, and last for longer, which cannot be said for store-bought versions. This is largely due to the materials we provide and technology we utilize to design their oral appliance. You'll quickly learn that this mouthguard is one they won't happen to "forget" before they get on the field!