Emergency Pediatric Dentist – Clinton, MA
Quickly Assisting Your Child's Compromised Smile
No one can anticipate a dental emergency—these scenarios have a knack for occurring not just when you least expect them to, but also when it's seemingly the least convenient. But when it happens to your child, things can really seem scary. That's why here at Simply Pediatric Dentistry & Orthodontics, we pride ourselves on being able to quickly address all types of pediatric dental emergencies in the Clinton, MA area and get your child back to looking and feeling like their best self. If your little one is dealing with a painful oral situation, don't hesitate to contact us right away!
Why Choose Simply Pediatric Dentistry & Orthodontics for Children's Emergency Dental Care?
Same-Day Emergency Appointments Available
Friendly & Experienced Dental Team
Sedation Options Available for Optimal Comfort
What To Do During a Dental Emergency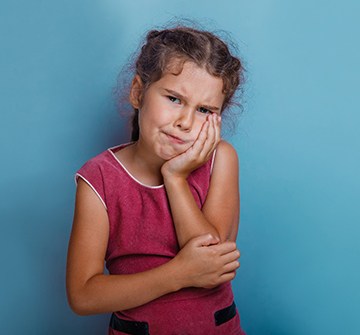 If your child is experiencing a dental emergency, perhaps the best thing you can do is stay calm; keeping a cool composure will encourage your little one to do the same! It's also advisable to promptly follow these three steps:
Call Our Office – You shouldn't leave anything to chance concerning your little one's smile; don't hesitate to call our office when your child has suffered a dental emergency. We'll let you know when (and if) they need to come in, and we'll also provide you with steps to take before your appointment (such as utilizing saltwater rinses, cold compresses, or over-the-counter pain relievers).
Schedule & Attend Your Visit – Our team is second to none when it comes to handling pediatric dental emergencies, so be sure that once your visit has been scheduled, you show up! After examining your child's mouth, we can begin addressing the issue.
Get Your Child the Help They Need – Once we've had the chance to determine what's wrong and prescribe appropriate treatment, you can rest assured that your little one's smile won't be hurting any longer and that their pearly whites aren't in any long-term jeopardy.
The Most Common Pediatric Dental Emergencies
No two emergencies are the same—and when it comes to pediatric dental emergencies, there's quite a bit of variance. Sometimes the problem is obvious and even painful, such as a chipped, cracked, or displaced tooth. Other times, it might be clear that something is wrong, but you might not be sure what exactly is going on. Regardless of what you think might be going on, we strongly encourage you to give us a call in these instances so that you're not leaving anything up to chance. Below are a few examples of some common pediatric dental emergencies and how we're able to provide assistance:
Understanding the Cost of Pediatric Dental Emergencies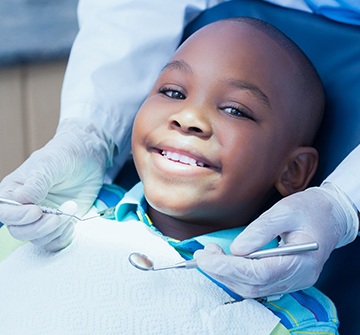 The bottom line is that there's no universal standard cost for receiving emergency pediatric dental care—the price you pay is always going to depend on the nature/severity of your child's situation. However, upon examining your child's smile (via a relatively inexpensive and noninvasive emergency exam), we'll be able to provide you with an accurate cost estimate. We're also happy to work with you to ensure that you're taking full advantage of your dental insurance benefits, if applicable.
How to Prevent Pediatric Dental Emergencies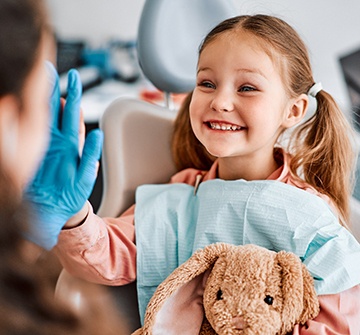 Even though you can always count on our pediatric dental team in Clinton to step in and assist your child with any type of dental emergency they might be experiencing, the best thing you can do for your little one is to help them avoid these situations entirely! Although accidents can happen, a few simple precautions coupled with good habits can go quite a long way. That's why we recommend the following:
Schedule a Checkup and Cleaning Every Six Months
Routine visits to our pediatric dental office in Clinton are essential for your child's oral health. Plus, these appointments help prevent serious smile-related injuries too! For example, we can catch tooth decay in the early stages during their biannual exams – long before it results in a painful toothache that warrants a same-day visit to our office for treatment.
Encourage Your Child to Brush and Floss Regularly
Of course, keeping your child's teeth and gums healthy also requires a consistent oral hygiene regimen, starting with brushing each morning and evening. When they are young, their fine motor skills are still developing, so be sure to help them if they require assistance! It's also imperative that you use the right oral hygiene tools, like a child-sized toothbrush.
Help Your Child Maintain a Healthy Diet
Maintaining a healthy diet benefits your child's oral and overall health! So, make sure to fill their plates and lunchboxes with plenty of healthy fruits and veggies. It's also important to encourage them to drink water throughout the day. This will keep them hydrated and rinse away food particles from their teeth. Lastly, do your best to keep their consumption of added sugar to a minimum.
Make Sure They Wear a Mouthguard During Sports
You wouldn't let your child play football without a helmet, right? For the same reason, they shouldn't participate in sports without a mouthguard. In fact, children who participate in non-contact sports, like skateboarding, are also encouraged to wear one to protect their teeth and gums in case they accidentally fall.
Redirect Unhealthy Habits
Does your child suck their thumb? Do they bite their nails? Do they chew on the back of their pencil or pen? These are all unhealthy habits that can chip, crack, or fracture their teeth. If your child is old enough, simply explaining the risks may be enough to discourage these behaviors. If they are still quite young, then redirecting them to a different activity may be easier.