Dentistry for Toddlers – Clinton, MA
Make Your Child's Terrible Two's Tolerable
When your baby becomes a toddler, they're likely to give you a run for your money (at least in terms of how much energy they have). They'll also start to learn what things they like and what they don't like. With all that said, you don't want to let their oral development be left behind, even if they start to tire you (and your patience) out. That's where Simply Pediatric Dentistry & Orthodontics can help. Our well-trained dentists are prepared to meet the needs of your toddler and ensure they feel at ease no matter what they need to have completed at their appointment. Give us a call and we'll help you get scheduled to receive dentistry for toddlers in Clinton, MA!
Why Choose Simply Pediatric Dentistry & Orthodontics for Dentistry for Toddlers?
Trained Team of Gentle, Professional Dentists
Modern, Relaxing, and Comfortable Dental Office Environment
We Accept MassHealth and All Other Dental Insurances
Dental Checkups & Teeth Cleanings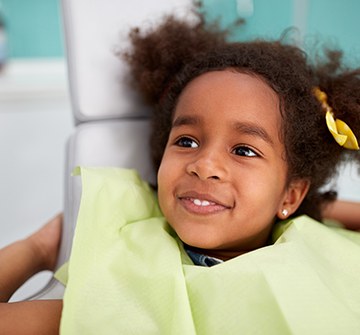 Once your child is old enough to sit in the treatment chair or (at the very least your lap) comfortably, we can take a closer look at your child's oral development through a professional checkup and cleaning. We'll closely examine their bite, current baby teeth, and gum tissue so we can build a clear picture of their oral health. Additionally, we'll complete a brief cleaning to remove harmful plaque from enamel. This way, their teeth will stay healthier as they grow. The most important goal is to stop issues early before they turn into expensive dental treatments.
Dental Sealants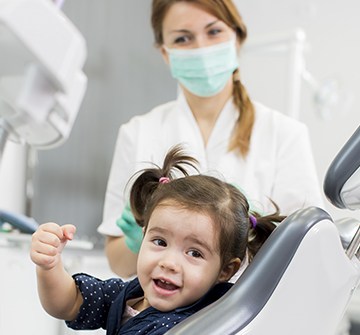 Over time, back teeth will start to appear in the back of your child's mouth. These teeth are generally more difficult to clean and remove food particles from, making them a common haven for plaque development and tooth decay. It's often why cavities develop in these teeth more often compared to other teeth. With safe dental sealants made from composite resin, our team can protect the chewing surfaces of your child's teeth and reduce their risk for cavities as they perfect their at-home oral care. In addition, sealants only take a single appointment to apply.
Fluoride Treatments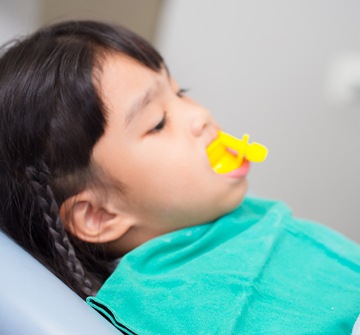 Fluoride is more common than you'd think. Not only is it found in the foods we eat and your oral hygiene products, but it's also been added to most public drinking water sources due to its proven abilities at reducing cavities. When regularly exposed to teeth, it can strengthen enamel, which is especially important for developing smiles. For this reason, we recommend fluoride treatments for all toddlers that come to our dental office.
Tooth-Colored Fillings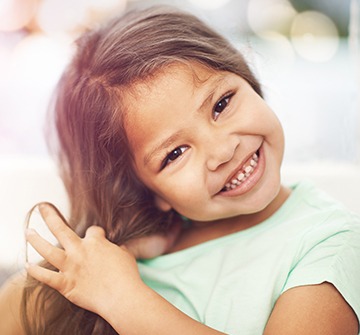 Our dentists are trained to help children avoid cavities, regardless of their age. However, there are instances where they can still appear. The good news is there are solutions available to prevent their teeth from being damaged further. This includes tooth-colored fillings, which are capable of rebuilding the structure of your teeth without the use of silver amalgam. Not only are they more comfortable, but they require virtually no removal of existing enamel to place. Since they are color-matched to teeth, you won't even notice they are there.
Safe Digital X-Rays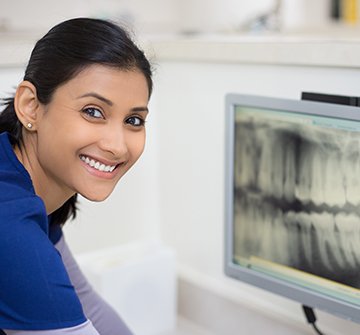 Our team performs routine exams so they can always be one step ahead of oral health problems. However, they can't see everything with the naked eye. This is why we recommend digital X-rays, which allow dentists to examine what's happening underneath the surface of the gums. X-rays are also used to monitor the development of teeth, the jaw, and other oral structures. By going digital, we reduce radiation exposure compared to traditional X-rays by as much as 80 percent, ensuring a safe experience for patients of all ages.
Root Canals / Pulp Therapy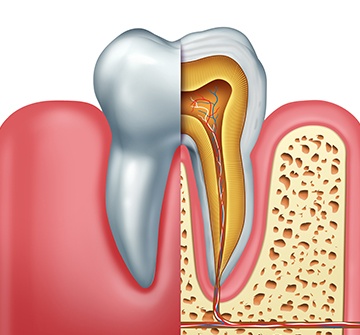 Teeth are made up of thick layers of enamel that protect the pulp located at the center. Inside the pulp are blood vessels, nerves, and other essential soft tissues that help the teeth grow and develop. If your child injures a tooth or they have severe tooth decay, this can lead to damage to the pulp. Thankfully this doesn't necessarily mean we have to extract their tooth. Instead, we perform pulp therapy, which works to preserve the tooth and leave all healthy tissue in place. From there, we can place a crown on top to avoid future damage.
Non-Nutritive Habits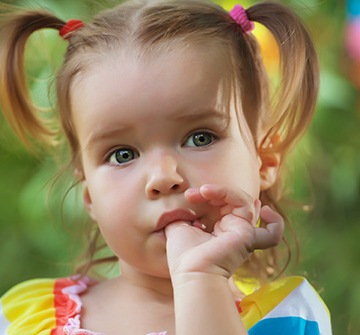 When your child sucks on their thumb or fingers, you may think its cute at first. However, our dentists see it more as a warning sign. This is because these non-nutritive habits can actually harm your toddler's oral development. If they do not discontinue the habit by the age of four, it can have major complications for their jaw and overall bite alignment. We encourage you to speak with our pediatric dentists who can provide tips to put these habits to an end in a way that is gentle and effective.
Emergency Kid's Dentistry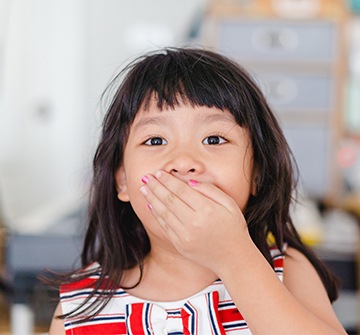 Toddlers have a tendency to be far more active now that they've gotten a better grasp at walking, running, and jumping all over the house! Of course, that doesn't mean they aren't still clumsy. If they experience a dental injury when you aren't paying attention, Simply Pediatric Dentistry & Orthodontics is prepared to help. We ask that you call us as soon as you realize something isn't quite right and we'll get your child seen as soon as possible. You can easily schedule an appointment over the phone as well as receive first-aid tips when you call.
Tooth Extractions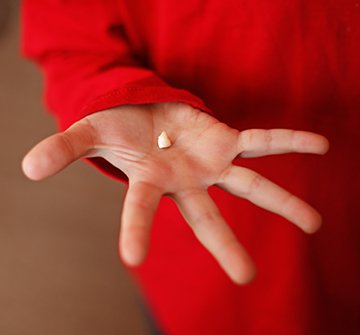 In an ideal world, your child would have all the room needed to accommodate developing teeth. However, there are rare instances where we may need to remove teeth just to protect their oral health and wellbeing. These instances include:
Advanced decay has developed
One or more teeth are severely injured or damaged
Baby teeth are interrupting the development of permanent teeth
When it comes to tooth extractions, you have nothing to worry about as a parent. We'll help your child and other young family members stay safe and calm throughout the entire process. Sedation dentistry is available in-house as well for added convenience.